Factors Affecting Mother's Behavior on The Compliance of Antenatal Care Visits
Keywords:
ANC, compliance, pregnant, posyandu
Abstract
Antenatal care is very important in ensuring that both the mother and the fetus will survive during pregnancy and during delivery. ANC service is a planned program in the form of observation, education, and medical treatment for pregnant women. The purpose of the research was to determine the factors that influence the mother's behavior on the compliance of Antenatal Care Visits at the Anggrek and Mawar Posyandu, Tlogomas Village, Malang City. The research design used analytic observation. The population of this research was all pregnant women in Posyandu Anggrek and Mawar, Tlogomas Village, Malang City as many as 17 people. The sample was 17 respondents taken by total sampling technique. The data collection technique used an instrument in the form of a questionnaire. The data analysis method used the Chi Square test (p value <0.05). The results showed that most of the respondents (64.7%) had sufficient knowledge, most of the respondents (70.6%) had the attitude of the sufficient category, and most of the respondents (52.9%) had the husband's support in the sufficient category and most of the respondents (64.7%) had the level of compliance of visits in the right category. The results of the chi square test showed that there was a correlation between knowledge, attitudes and husband's support factors on the compliance of Antenatal Care Visits at the Anggrek and Mawar Posyandu, Tlogomas Village, Malang City. Further researchers are expected to conduct similar research by exploring other factors that can affect the compliance of ANC visits such as economic factors, distance from health facilities and this research is carried out by visiting respondents one by one so that it is less effective.
References
Astuti, T. (2015). Gambaran Pengetahuan Ibu Hamil pada Pelaksanaan Kunjungan Pelayanan Antenatal Care di Puskesmas Jetis II Bantul (Doctoral dissertation, STIKES Jenderal A. Yani Yogyakarta).
Chaerunnisa, A. R., & Darmawansyah, N. (2014). Hubungan Perilaku Ibu Hamil terhadap Pemanfaaatan ANC di Puskesmas Mamajang, Kota Makassar. Makalah (tidak dipublikasikan).
Fitrayeni, F., Suryati, S., & Faranti, R. M. (2017). Penyebab rendahnya kelengkapan kunjungan antenatal care ibu hamil di Wilayah Kerja Puskesmas Pegambiran. Jurnal Kesehatan Masyarakat Andalas, 10(1), 101-107.
Green, L. W. (2005). Health Program Planning. An educational and ecological approach.
Ismainar, H., Subagio, H. W., Widjanarko, B., & Hadi, C. (2020). To What Extent Do Ecological Factors of Behavior Contribute to the Compliance of the Antenatal Care Program in Dumai City, Indonesia. Risk management and healthcare policy, 13, 1007–1014. https://doi.org/10.2147/RMHP.S242724.
Kemenkes, R. I. (2013). Riset kesehatan dasar (Riskesdas) 2013. Kemenkes RI. Jakarta.
Laksono, A. D., Wulandari, R. D., Kumalasari, M. L. F., Mustika, I., & Matahari, R. (2020). Socioeconomic Difference of Husband's Involvement in Antenatal Care in Rural Indonesia.
Notoatmodjo, S. (2012). Promosi kesehatan dan perilaku kesehatan.
Patel, B. B., Gurmeet, P., Sinalkar, D. R., Pandya, K. H., Mahen, A., & Singh, N. (2016). A study on knowledge and practices of antenatal care among pregnant women attending antenatal clinic at a Tertiary Care Hospital of Pune, Maharashtra. Medical Journal of Dr. DY Patil University, 9(3), 354.
Pattipeilohy, M. Y. (2017). Faktor-faktor yang mempengaruhi perilaku ibu terhadap ketepatan kunjungan antenatal care di Puskesmas Rekas Kabupaten Manggarai Barat Nusa Tenggara Timur Tahun 2017. J Chem Inf Model [Internet], 53(9), 1689-99.
Rachmawati, A. I., Puspitasari, R. D., & Cania, E. (2017). Faktor-faktor yang memengaruhi kunjungan antenatal care (anc) ibu hamil. Jurnal Majority, 7(1), 72-76.
Rahman, F. (2017). Hubungan Pengetahuan Dan Sikap Ibu Hamil Terhadap Pentingnya Pemeriksaan Antenatal Care Di Puskesmas Namtabung Kec. Selaru Kabupaten Maluku Tenggara Barat. Global Health Science, 2(1), 64-69.
Rimer, B. K., & Glanz, K. (2005). Theory at a glance: a guide for health promotion practice. US Department of Health and Human Services, National Institutes of Health, National Cancer Institute.
BPS. (2012). Survei Demografi dan Kesehatan Indonesia (SDKI) Laporan Pendahuluan. Kerjasama BPS, BKKBN dan Kementerian Kesehatan. Measure DHS ICF International. Jakarta.
Subekti, R., & Sulistyorini, D. (2018). Analisis faktor risiko penyebab anemia pada ibu hamil di puskesmas wilayah kabupaten Banjarnegara Tahun 2018. Jurnal Ilmiah Medsains, 4(1), 34-39.
Syamsiah, N., & Pustikasari, A. (2014). Faktor-faktor yang berhubungan dengan kunjungan antenatal care pada ibu hamil di Puskesmas Kecamatan Kembangan Jakarta Barat tahun 2013. Jurnal Ilmiah Kesehatan, 6(1), 15-8.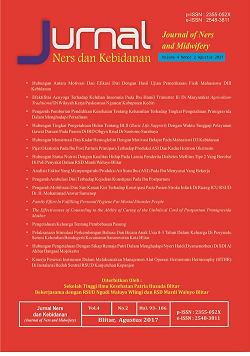 Downloads