Self Care Profile of Diabetic Patient during Covid 19 Pandemic in Manggarai Regency, East Nusa Tenggara
Keywords:
Diabetes Mellitus, Pandemic covid-19, Self Care
Abstract
Diabetes mellitus (DM) is one of the comorbid diseases commonly found on COVID-19 infected individuals and causing the most death. In the pandemic era, DM patients are needful to execute the care management by themselves due to the social restriction as a part of transmission control. This study aimed to assess the self-care behavior of DM patients during the COVID-19 pandemic era in Manggarai Regency who still carry out various traditional ceremonies even during the pandemic. This study was a quantitative descriptive study. The research data get by the SDSCA (The Summary of Self-Care Activities) questionnaire developed by the General Service Administration (GSA) Regulatory Information Service Center (RISC). This study attends from January to March 2021, with 88 respondents have participated after being recruited using purposive sampling and inclusion criteria. Among the 88 respondents, the respondents were most compliant with eating restrictions on sugar-contained food such as cake, chocolate, biscuit, and ice cream diet. Respondents did not restrict themself to consume carbohydrate contained foods. Self-care behavior is most important to DM patients in the pandemic era due to the social restrictions creating the hesitancy among the patients to come to the health care facilities. Moreover, when DM patients are more prone to develop severe symptoms of covid-19. Health professionals have to improve the health education to the patients by emphasizing the importance of exercise, diabetic foot care, and routine blood sugar monitoring so that the patients are not only focused on dietary management and medicine.
References
Alligood, M. R. (2014). Nursing Theorists and Their Work. St. Louis: Elsevier.
Fadini, G.P, Morieri, M.L, et al. (2020). Prevalence and Impact of Diabetes Among People Infected with SARS-CoV-2. Jurnal Endocrinol Invest. 43 (6), 867-869. doi: 10.1007/s40618-020-01236-2
Florespedia.com. (2021). Tambah Satu, Pasien Meninggal Akibat COVID-19 di Manggarai Jadi 16 Orang. https://kumparan.com/florespedia/tambah-satu-pasien-meninggal-akibat-covid-19-di-manggarai-jadi-16-orang-1vOJGCphRHd
Fujiwara, Y, et al. (2011). Beneficial effects of foot care nursing for people with diabetes mellitus an uncontrolled before and after intervention study. Journal of Advanced Nursing, 67 (9), 1952-1962. doi :10.1111/j.1365-2648.2011.05640.x
Holt, P. (2014). Blood glucose monitoring in diabetes. Nursing Standard, 28 (7), 52-58. doi: 10.7748/ns2014.03.28.27.52.e650
Hosomi, Yukako et al. (2021). The effect of Covid 19 pandemic on the lifestyle and glycemic control in patients with type 1 diabetes: a retrospective cohort study. Diabetology International. doi: https://doi.org/10.1007/s13340-021-00507-4
International Diabetes Federation. (2013). IDF Diabetes Atlas.Sixth edition. Diambil dari http://www.idf.org
Kesavan, Rajesh et al. 2020. Guidance for diabetic foot management during Covid 19 pandemic. Indian Journal of Vascular and Endovascular Surgery. 7 (2), 116-120. doi: 10.4103/ijves.ijves_43_20
Mukona, D.M & Zvinavashe. (2020). Self management of diabetes mellitus during the covid 19 pandemic: Recommendations for a resource limited setting. Diabetes & Metabolic Syndrome: Clinical Research & Reviews. 14(6): 1575–1578. doi: 10.1016/j.dsx.2020.08.022
Muniyappa, Rangnath & Gubbi, Sriram. (2020). Covid-19 pandemic, coronaviruses and diabetes mellitus. American Journal of Physiology. Endocrinology and Metabolism. 318: E736–E741, 2020. doi: 10.1152/ajpendo.00124.2020
Obukhov, A.G, Stevens, B.R, Prasat, Ram, et al. (2020). SARS-CoV-2 Infections and ACE2: Clinical Outcomes Linked With Increased Morbidity and Mortality in Individuals With Diabetes. Americal Diabetes Association. 69(9):1875-1886. doi: 10.2337/dbi20-0019
Peterson, J. M., & Virden, M. D. (2013). Improving diabetic foot care in a nurse-managed safety-net cliinic. Journal of the American Association of Nurse Practitioners, 25 (5), 263-271. doi: 10.1111/j.1745-7599.2012.00786.x
Sheridan, S. (2012). The need for a comprehensive food care model. Nephrology Nursing Journal, 39 (5), 397-400. PMID: 23094341
So'emah, E.K., Windartik, E., Rahmawati, I. (2021). Level of Anxiety and Community Behavior in Preventing the Covid-19 Pandemic in East Java. Jurnal Ners dan Kebidanan (Journal of Ners and Midwifery), 8(1), 49-54. doi: 10.26699/jnk.v8i1.ART.p049-054
Strollo, Felice et al. (2016). Italian Voluntary Diabetes and Exercise Organizations: From Social Support to Nation Clinical Research. Diversity and Equality in Health and Care. 13 (6), 391-393.
Sugiharto., Hsu, Y.Y., Toobert, D.J., Wang, S.T. (2019). The Validity and Reliability of The Summnary of Diabetes Self-Care Activities Questionnaire: An IndonesianVersion. Jurnal INJEC. 4(1), 25-36. doi: http://dx.doi.org/10.24990/injec.v4i1.229
Urbancic, Vilma, 2021. Diabetic Foot Care Before and During the COVID-19 Epidemic: What Really Matters?. American Diabates Association. doi: https://doi.org/10.2337/dc20-2650
Ward, J.E.F., Stetson, B.A & Mokshagundam, S.P.L. (2015). Patient perspectives on self-monitoring of blood glucose: perceived recommendations, behaviors and barriers in a clinic sample of adults with type 2 diabetes. Journal of Diabetes & Metabolic Disorder. 14:43, 1-7. doi: 10.1186/s40200-015-0172-z
Zhou, Fei, et al. (2020). Clinical course and risk factors for mortality of adult inpatients with COVID-19 in Wuhan, China: a retrospective cohort study. The Lancet. 395 (10229), 1054-1062. doi: 10.1016/S0140-6736(20)30566-3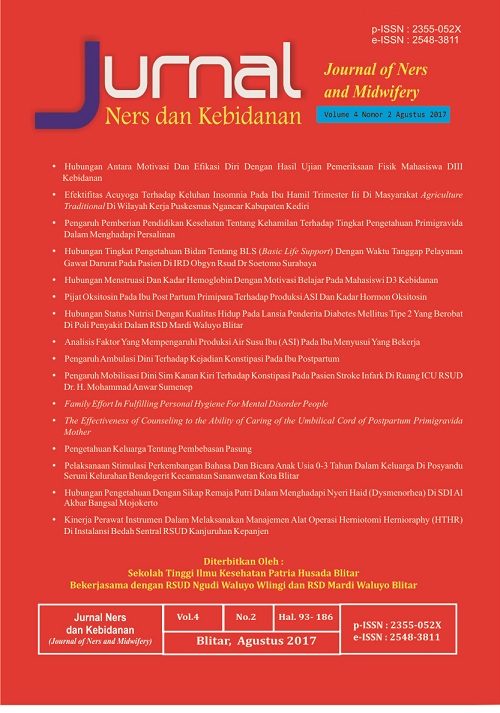 Downloads