Systematic Review : The Effect of Massage Effleurage on Dysmenorrhea
Keywords:
Dysmenorrhea, Effects, Effleurage, Massage
Abstract
Introduction: In Indonesia, the incidence of dysmenorrhea is 64.25% consisting of primary dysmenorrhea amounted to 54.89% and secondary dysmenorrhea of 9.36%. Some women experienced menstrual pain or cramps, also known as dysmenorrhea. The purpose of this research was to find out the effect of abdominal massage effleurage on decreasing the pain scale of primary dysmenorrhea. Method: Systematic review using the database: Google Scholar. The search results that meet the criteria were then analyzed for articles. Result: Primary dysmenorrhea pain could be relieved by massage techniques such as abdominal effleurage massage. Conclusion: To deal with dysmenorrhea pain, it is advisable for young women not to consume it immediately pharmacological drugs but using massage therapy such as massage effleurage abdomen.
References
Alviana, P. 2015. Pijat Refleksi. Yogyakarta: Pustaka Baru Press.
Andanawarih, Putri, Miftachul Jannah, and Swasti Artanti. 2020. 'Teknik Effleurage Massage Terhadap Nyeri Dissmenore Dismenore Merupakan Salah Satu Masalah Yang Timbul Selama Atau Sebelum Menstruasi Yang Terjadi Akibat Peningkatan Hormon Prostaglandin Yang Dapat Penyebab Paling Sering Alasan Ketidakhadiran Kuliah Dissm'. Jurnal Kebidanan Harapan Ibu Pekalongan (7): 54–57.
Andari, Fatsiwi Nunik; Amin, M; Purnamasari, Yesi. 2018. 'Pengaruh Masase Effleurage Abdomen Terhadap Penurunan Skala Nyeri Dismenorea Primer Pada Remaja Putri Di SMP Muhammadiyah Terpadu Kota Bengkulu'. Keperawatan Sriwijaya 5(2355): 8–15.
Andria, Ardina Ira, Sudarti, and Reny Retnaningsih. 2016. 'PENERAPAN TEKNIK MASSASE EFFLEURAGE PADA ABDOMEN TERHADAP PENURUNAN INTENSITAS NYERI DISMENOREA PRIMER PADA REMAJA PUTRI (STUDI KASUS PADA Nn.â€N†DAN Nn.â€O†DI PRODI KEBIDANAN POLTEKKES RS Dr.SOEPRAOEN MALANG)'. Jurnal Hesti Wira Sakti 4(1): 46–50.
Anita, Wan. 2017. 'Techniques of Pain Reduction in the Normal Labor Process : Systematic Review'. Jurnal Endurance 2(3): 362.
Apay, Serap Ejder, Sevban Arslan, Reva Balci Akpinar, and Ayda Celebioglu. 2012. 'Effect of Aromatherapy Massage on Dysmenorrhea in Turkish Students'. Pain Management Nursing 13(4): 236–40.
Bobak, and J. Lowdermilk. 2005. Keperawatan Maternitas. Jakarta: EGC.
Chayati, Umi Nur, and Lutfia Uli Na'mah. 2019. 'Penerapan Kombinasi Pijat Effleurage Dan Pemberian Air Kelapa Hijau Terhadap Penurunan Nyeri Dismenore Pada Remaja Putri Usia 13-15 Tahun'. In The 10th University Research Colloqium 2019 Sekolah Tinggi Ilmu Kesehatan Muhammadiyah Gombong, , 14–21.
Hikmah, Nurul, Coryna Rizky Amelia, and Dewi Ariani. 2018. 'Pengaruh Pemberian Masase Effleurage Menggunakan Minyak Aromaterapi Mawar Terhadap Penurunan Intensitas Nyeri Dismenore Pada Remaja Putri Di SMK Negeri 2 Malang Jurusan Keperawatan'. Journal Of Issues In Midwifery 2(2): 34–45.
Jama, Fatma, and Asna Azis. 2020. 'Pengaruh Massase Effleurage Abdomen Terhadap Penurunan Dismenore Primer Pada Remaja Putri'. Window of Nursing Journal 01(01): 1–6.
Kingston, B. 2009. Mengatasi Nyeri Haid. Jakarta: EGC.
Murtiningsih, and Shintya Tri Andani. 2018. 'Difference Effect of The Combination of Lavender Aromatherapy and Effluerage with Breathing Relaxation on Pain Intensity During Labor among Primiparas'. Journal of Maternity Care and Reproductive Health 1(1): 144–59.
Reeder, and Martin. 2011. Keperawatan Maternitas : Kesehatan Wanita, Bayi Dan Keluarga Edisi 18. Jakarta: EGC.
Sholihah, Nur Rahmawati, and Imroatul Azizah. 2020. 'The Effect of Effleurage Massage on Primary Dysmenorrhea in Female Adolescent Students'. Jurnal Info Kesehatan 18(1): 9–17.
Smeltzer, and Bare. 2002. Buku Ajar Keperawatan Medikal Bedah. Edisi 8. Jakarta: EGC.
Smeltzer, Susan. 2014. Buku Keperawatan Medical Bedah Edisi 12 Brunner. Jakarta: EGC.
Suwanto, and Mujtahidatul Islamiyah. 2018. 'PENGARUH TEKNIK EFFLEURAGE KOMBINASI OLIVE OIL JAHE (Zingiber Officinale) TERHADAP DYSMENORHEA PADA REMAJA PUTRI'. Journals of Ners Community 1(2): 2018.
Umami, Afriza, Dessy Lutfiasari, and Galuh Pradian. 2016. 'Perbedaan Efektivitas Teknik Effleurage Dan Kompres Hangat Terhadap Penurunan Dismenorea Pada Santri Putri Asrama Hurun Inn Pondok Pesantren Darul Ulum Jombang'. Journal Hospital Science.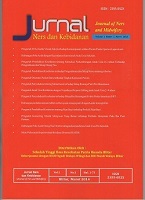 Downloads
Section
Systematic Review