Nurses' Awareness and Participation in Mandatory Continuing Professional Development in the Philippines: A Pilot Survey
Keywords:
Continuing Professional Development, CPD, Continuing Education, Nurses, Awareness
Abstract
Introduction: Mandatory Continuing Professional Development (CPD) in the Philippines is relatively new. The purpose of the study was to determine nurses' awareness and participation in CPD in the Philippines. Methods: This descriptive survey was conducted among nurses (n=30) in a private hospital in Iloilo City. A researcher-made survey tool was used to gather data. Data were analyzed using descriptive statistics and Mann-Whitney U to test for differences between variables. Results: Results indicated that were nurses were generally aware of the CPD law and its implementing rules and regulations (IRR). However, while nurses understood the concept of CPD and the renewal requirements of the CPD Act, more than half were not aware of learning activities under Self-Directed Learning and that nurses can earn CPD credit units through online CPD programs. Almost half were unaware that excess CPD cannot be carried over to the next three-year period, and more than one-third were unaware that only completed post baccalaureate degree programs can be used to earn CPD credit units. There were no significant differences in the awareness of nurses when grouped according to sex, age, civil status, position, salary, and length of work experience. Seminars and workshops were the most common CPD activities participated by nurses in the last 12 months. Conclusion: Addressing the common information gaps regarding the CPD law identified in this study may assist in increasing nurses' support in the implementation of the mandatory CPD among nurses.
References
Aboshaiqah, A.E., Qasim, A., Abualwafa, N., & Al-Bashaireh , A.M. (2012). Barriers for continuing professional development among nurses in Saudi Arabia. Middle East Journal of Nursing, 6(3), 22-27. Retrieved from https://platform.almanhal.com/Files/2/19423
Abrigo, C.M. & Abrigo, V.M. (2017). What do they value? Investigating librarians' attitudes toward continuing professional development pursuits. Journal of Philippine Librarianship, 37, 17-31. Retrieved from https://www.journals.upd.edu.ph/index.php/jpl/article/download/6802/5895
Acob, J.R.U. & Martiningsih, W. (2018). Role development of nurse managers in the changing health care practice. Jurnal Ners dan Kebidanan, 5(1), 66-68. DOI: 10.26699/jnk.v5i1.ART.p066–068
Bautista, R.G., Benigno, V.G., Camayang, J.G., Ursua, J.C., Agaloos, C.G., Ligado, F.N.G., & Buminaang, K.N. (2017). Continuing professional development program as evidenced by the lenses of QSU licensed professional teachers. American Journal of Educational Research, 5(11), 1172-1176. DOI: 10.12691/education-5-11-10
Brekelmans, G., Maassen, S., Poell, R.F., Weststrate, J., & Geurdes, E. (2016). Factors influencing nurse participation in continuing professional development activities: Survey results from the Netherlands. Nurse Education Today, 40, 13-19. DOI: 10.1016/j.nedt.2016.01.028
Chakkaravarthy, K., Ibrahim, N., Mahmud, M., & Venkatasalu, M. R. (2018). Predictors for nurses and midwives' readiness towards self-directed learning: An integrated review. Nurse Education Today, 69, 60-66. DOI: 10.1016/j.nedt.2018.06.030.
Chong, M. C., Francis, K., Cooper, S., & Abdullah, K. L. (2014). Current continuing professional education practice among Malaysian nurses. Nursing Research and Practice, Article ID 126748. https://doi.org/10.1155/2014/126748
Harrison, D. (2020). The importance of awareness. BelievePerform. Retrieved from https://believeperform.com/the-importance-of-awareness/
Ingwu, J.A., Efekalam, J., Nwaneri, A., Ohaeri, B., Israel, C., Chikeme, P., ... & Omotola, N. (2019). Perception towards mandatory continuing professional development programme among nurses working at University of Nigeria Teaching Hospital, Enugu-Nigeria. International Journal of Africa Nursing Sciences, 11, 100169. https://doi.org/10.1016/j.ijans.2019.100169
Karaman, S. (2011). Nurses' perceptions of online continuing education. BMC Medical Education, 11(1), 86. https://doi.org/10.1186/1472-6920-11-86
Lamasan, J.I.L., & Oducado, R.M.F. (2018). A qualitative description of millennial nurse administrators' perspectives on leadership and their practice environment. Indonesian Nursing Journal of Education and Clinic, 2(3), 153-164. http://dx.doi.org/10.24990/injec.v3i2.226
Macaden, L., Washington, M., Smith, A., Thooya, V., Selvam, S. P., George, N., & Mony, P. (2017). Continuing professional development: Needs, facilitators and barriers of registered nurses in India in rural and remote settings: Findings from a cross sectional survey. Open Journal of Nursing, 7(8). DOI: 10.4236/ojn.2017.78069
Mosol, P., Obwoge, R.O., Kei, R., & Ndwiga, T. (2017). Continuing professional development practices among nurses in western Kenya. International Journal of Science and Research Methodology,(7)1, 116-127. Retrieved from http://ijsrm.humanjournals.com/wp-content/uploads/2017/08/9.Mosol-Priscah-Obwoge-Ronald-Omenge-Kei-Robert-T.-Ndwiga.pdf
Nevenhoven, J.S. (2016). Change begins with answering what and why. Industry Week. Retrieved from https://www.industryweek.com/leadership/change-management/article/21985980/change-begins-with-answering-what-and-why
Orale, R.L., Gomba, F.E., Fabillar, L., & Quebada, A.E. (2016). Are conventions an effective continuing professional development activity?. Journal of Academic Research, 1(3), 1-11. Retrieved from http://jar.ssu.edu.ph/index.php/JAR/article/download/55/41/
O'Shea, E. (2003). Selfâ€directed learning in nurse education: A review of the literature. Journal of Advanced Nursing, 43(1), 62-70. https://doi.org/10.1046/j.1365-2648.2003.02673.x
Ousey, K., & Roberts, D. (2013). Improving access to CPD for nurses: the uptake of online provision. British Journal of Community Nursing, 18(2), 78-83. DOI: 10.12968/bjcn.2013.18.2.78
Owoeye, I.D., Sodimu, J.O., Anyanwu, B.C., & Olowolafe, E.O. (2019). Comparative analysis of nurses' knowledge in the 2018 mandatory continuing professional development programme (MCPDP) in Ogun State. International Journal of Nursing, 6(2), 89-95. https://doi.org/DOI: 10.15640/ijn.v6n2a9
Penz, K., D'Arcy, C., Stewart, N., Kosteniuk, J., Morgan, D., & Smith, B. (2007). Barriers to participation in continuing education activities among rural and remote nurses. The Journal of Continuing Education in Nursing, 38(2), 58-66. DOI: 10.3928/00220124-20070301-03
PRC Board News. (2018). PRC board news poll results: 95% agree to repeal CPD law. Retrieved from https://www.prcboardnews.com/2018/02/prc-board-news-poll-results-95-agree-to-repeal-cpd-law.html
Professional Regulatory Commission Resolution No. 2019-1146 series of 2019. Amending relevant provisions of resolution no. 1032 (2017) otherwise known as the "Implementing Rules and Regulations (IRR) of Republic Act No. 10912, known as the continuing professional development (CPD) act of 2016. Retrieved from https://www.prc.gov.ph/sites/default/files/2019-1146%20CPD%20IRR.PDF
Republic Act No. 10912 of 2016. An act mandating and strengthening the continuing professional development program for all regulated professions, creating the continuing professional development council, and appropriating funds therefor, and for other related purposes. Retrieved from https://www.officialgazette.gov.ph/2016/07/21/republic-act-no-10912/
Ubas-Sumagaysay, N.A. & Oducado, R.M.F. (2020). Perceived competence and transition experience of new graduate Filipino nurses. Jurnal Keperawatan Indonesia, 23(1), 48-63. DOI: 10.7454/jki.v0i0.1071
Yfantis, A., Tiniakou, I, & Yfanti, E. (2010). Nurses' attitudes regarding continuing professional development in a district hospital of Greece. Health Science Journal, 4(3), 193-200. Retrieved from http://www.hsj.gr/medicine/nurses-attitudes-regarding-continuing-professional-development-in-a-district-hospital-of-greece.pdf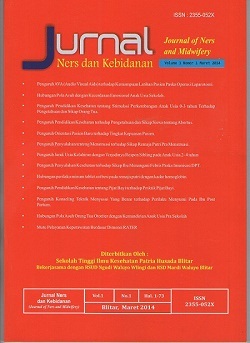 Downloads