Efektifitas Rebusan Wortel (Daucus Carota. L) terhadap Penurunan kadar Kolesterol Darah pada Tikus Putih (Rattus Norvegicus)
Keywords:
Hypercholesterolemia, Carrots, Beta Carotene, Cholesterol
Abstract
Hypercholesterolemia is a disease of cholesterol metabolism disorder caused by high blood cholesterol. Chemical treatment is reported to have side effects in the long term. The purpose of this study was to determine the effectiveness of carrot stew to decrease cholesterol levels in hypercholesterolemic of rats.The design of this study used experimental randomized control-group pretest - post test design. The samples were divided into control and treatment groups, each group consisted 8 rats. The treatment used a carrot stew with 1.25cc dose and control with medication simvastatin 0144 cc dose was given every morning for 3 days. The measurement of the cholesterol levels used Touch Essey data analysis by Wilcoxon and Mann-Whitney. The study started on May 15th - July 22, 2015.The results of the study showed the cholesterol control group decreased 12.5% (P = 0.069> á = 0.05) in the treatment group and 50% (P = 0.716), On the statistical test showed no effect of carrot stew on blood cholesterol levels. While the results of the effect between treatment and control group (P = 0528> á = 0.05).Carrots with beta-carotene could lower cholesterol levels in the blood, and could prevent the oxidation of Low Dencity Lipoprotein (LDL). The absorption of beta-carotene was better when boiled in temperatures between 60-100 ° C.
References
Anonymous. 2004. Carrot. http://en.wikipedia.org/wol.iki/
carrot. online diakses tanggal 6 mei 2015.
Astawan , M. 2008. Kasiat Warna Warni Makanan.
Jakarta: Gramedia.
Biokimia Harper Edisi 25 Robert k.Murray; Daryl k.
Granner; Peter A.Mayes and Victor W.Rodwel,
EGC.
Davenport, R., and Dennis, M. 2000. Neurological emergencies:
acute stroke.
Fikri, F. 2009. Bahaya kolesterol. pp:11;16-18. Jogjakarta:
Kelompok Penerbit Ar-Ruzz Media.
Fikri. F. 2009. Bahaya kolesterol. pp:11; 16-18.
Jogyakarta: Kelompok Penerbit Ar-Ruzz Media.
Freeman, W.Mason, & Junge, Christine. 2008. Kolesterol
Rendah Jantung Sehat. Jakarta: Bhuana Ilmu
Populer.
Nursalam. 2008. Konsep dan Penerapan Metodologi
Penelitian Ilmu Keperawatan: Pedoman Skripsi,
Tesis, dan Instrumen Penelitian Keperawatan
Edisi 2. Jakarta: Penerbit Salemba Medika.
Nurwahyuni, A. 2006. Efek Kolesterol Daun Sambung
Nyawa terhadap kolesterol LDL.
Pantastico, E.B. 1989. Fisiologi Pasca Panen, Penanganan,
Pemanfaatan Buah-buahan dan Sayursayuran
Tropika dan Subtropika. Yogyakarta:
UGM Press.
Rukmana, R. 1995. Bertanam Wortel. Yogyakarta: Penerbit
Kanisius.
Saryono, 2010. Kumpulan instrumen Penelitian
Kesehatan. Bantul: Nuha Medika.
Siswono. 2006. Bahaya dari kolesterol tinggi.
Smeltzer, Suzane, C. Buku ajar keperawatan medikal–
bedah, Brunner & Suddarth edisi 8 vol.2 Jakarta.
Soeharto. 2004. Penyakit Jantung Koroner dan
Serangan Jantung. p:73. Jakarta: PT Gramedia
Pustaka Utama.
Swarjana, I Ketut. 2012. Metodologi Penelitian Kesehatan.
Yogyakarta: Penerbit CV Andi Offset.
Unit Penelitian dan Pengabdian Masyarakat. Juli, 2007.
Panduan Penulisan KaryaI lmiah Sekolah Tinggi
Ilmu Kesehatan Patria Husada Blitar.
Universitas Negeri Semarang Linardi.1993. Patofisiologi
dan Penatalaksanaan Stroke.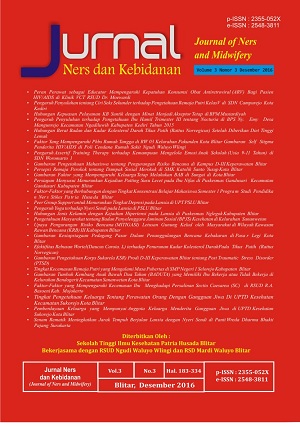 Downloads